This post is co-authored with Michael Bolton. We have spent hours arguing about nearly every sentence. We also thank Iain McCowatt for his rapid review and comments.

Testing and tool use are two things that have characterized humanity from its beginnings. (Not the only two things, of course, but certainly two of the several characterizing things.) But while testing is cerebral and largely intangible, tool use is out in the open. Tools encroach into every process they touch and tools change those processes. Hence, for at least a hundred or a thousand centuries the more philosophical among our kind have wondered "Did I do that or did the tool do that? Am I a warrior or just spear throwing platform? Am I a farmer or a plow pusher?" As Marshall McLuhan said "We shape our tools, and thereafter our tools shape us."
This evolution can be an insidious process that challenges how we label ourselves and things around us. We may witness how industrialization changes cabinet craftsmen into cabinet factories, and that may tempt us to speak of the changing role of the cabinet maker, but the cabinet factory worker is certainly not a mutated cabinet craftsman. The cabinet craftsmen are still out there– fewer of them, true– nowhere near a factory, turning out expensive and well-made cabinets. The skilled cabineteer (I'm almost motivated enough to Google whether there is a special word for cabinet expert) is still in demand, to solve problems IKEA can't solve. This situation exists in the fields of science and medicine, too. It exists everywhere: what are the implications of the evolution of tools on skilled human work? Anyone who seeks excellence in his craft must struggle with the appropriate role of tools.
Therefore, let's not be surprised that testing, today, is a process that involves tools in many ways, and that this challenges the idea of a tester.
This has always been a problem– I've been working with and arguing over this since 1987, and the literature of it goes back at least to 1961– but something new has happened: large-scale mobile and distributed computing. Yes, this is new. I see this is the greatest challenge to testing as we know it since the advent of micro-computers. Why exactly is it a challenge? Because in addition to the complexity of products and platforms which has been growing steadily for decades, there now exists a vast marketplace for software products that are expected to be distributed and updated instantly.
We want to test a product very quickly. How do we do that? It's tempting to say "Let's make tools do it!" This puts enormous pressure on skilled software testers and those who craft tools for testers to use. Meanwhile, people who aren't skilled software testers have visions of the industrialization of testing similar to those early cabinet factories. Yes, there have always been these pressures, to some degree. Now the drumbeat for "continuous deployment" has opened another front in that war.
We believe that skilled cognitive work is not factory work. That's why it's more important than ever to understand what testing is and how tools can support it.
Checking vs. Testing
For this reason, in the Rapid Software Testing methodology, we distinguish between aspects of the testing process that machines can do versus those that only skilled humans can do. We have done this linguistically by adapting the ordinary English word "checking" to refer to what tools can do. This is exactly parallel with the long established convention of distinguishing between "programming" and "compiling." Programming is what human programmers do. Compiling is what a particular tool does for the programmer, even though what a compiler does might appear to be, technically, exactly what programmers do. Come to think of it, no one speaks of automated programming or manual programming. There is programming, and there is lots of other stuff done by tools. Once a tool is created to do that stuff, it is never called programming again.
Now that Michael and I have had over three years experience working with this distinction, we have sharpened our language even further, with updated definitions and a new distinction between human checking and machine checking.
First let's look at testing and checking. Here are our proposed new definitions, which soon will replace the ones we've used for years (subject to review and comment by colleagues):
Testing is the process of evaluating a product by learning about it through experiencing, exploring, and experimenting, which includes to some degree: questioning, study, modeling, observation, inference, etc.

(A test is an instance of testing.)
Checking is the process of making evaluations by applying algorithmic decision rules to specific observations of a product.
(A check is an instance of checking.)
Explanatory notes:
"evaluating" means making a value judgment; is it good? is it bad? pass? fail? how good? how bad? Anything like that.
"evaluations" as a noun refers to the product of the evaluation, which in the context of checking is going to be an artifact of some kind; a string of bits.
"learning" is the process of developing one's mind. Only humans can learn in the fullest sense of the term as we are using it here, because we are referring to tacit as well as explicit knowledge.
"exploration" implies that testing is inherently exploratory. All testing is exploratory to some degree, but may also be structured by scripted elements.
"experimentation" implies interaction with a subject and observation of it as it is operating, but we are also referring to "thought experiments" that involve purely hypothetical interaction. By referring to experimentation, we are not denying or rejecting other kinds of learning; we are merely trying to express that experimentation is a practice that characterizes testing. It also implies that testing is congruent with science.
the list of words in the testing definition are not exhaustive of everything that might be involved in testing, but represent the mental processes we think are most vital and characteristic.
"algorithmic" means that it can be expressed explicitly in a way that a tool could perform.
"observations" is intended to encompass the entire process of observing, and not just the outcome.
"specific observations" means that the observation process results in a string of bits (otherwise, the algorithmic decision rules could not operate on them).
There are certain implications of these definitions:
Testing encompasses checking (if checking exists at all), whereas checking cannot encompass testing.
Testing can exist without checking. A test can exist without a check. But checking is a very popular and important part of ordinary testing, even very informal testing.
Checking is a process that can, in principle be performed by a tool instead of a human, whereas testing can only be supported by tools. Nevertheless, tools can be used for much more than checking.
We are not saying that a check MUST be automated. But the defining feature of a check is that it can be COMPLETELY automated, whereas testing is intrinsically a human activity.
Testing is an open-ended investigation– think "Sherlock Holmes"– whereas checking is short for "fact checking" and focuses on specific facts and rules related to those facts.
Checking is not the same as confirming. Checks are often used in a confirmatory way (most typically during regression testing), but we can also imagine them used for disconfirmation or for speculative exploration (i.e. a set of automatically generated checks that randomly stomp through a vast space, looking for anything different).
One common problem in our industry is that checking is confused with testing. Our purpose here is to reduce that confusion.
A check is describable; a test might not be (that's because, unlike a check, a test involves tacit knowledge).
An assertion, in the Computer Science sense, is a kind of check. But not all checks are assertions, and even in the case of assertions, there may be code before the assertion which is part of the check, but not part of the assertion.
These definitions are not moral judgments. We're not saying that checking is an inherently bad thing to do. On the contrary, checking may be very important to do. We are asserting that for checking to be considered good, it must happen in the context of a competent testing process. Checking is a tactic of testing.
Whither Sapience?
If you follow our work, you know that we have made a big deal about sapience. A sapient process is one that requires an appropriately skilled human to perform. However, in several years of practicing with that label, we have found that it is nearly impossible to avoid giving the impression that a non-sapient process (i.e. one that does not require a human but could involve a very talented and skilled human nonetheless) is a stupid process for stupid people. That's because the word sapience sounds like intelligence. Some of our colleagues have taken strong exception to our discussion of non-sapient processes based on that misunderstanding. We therefore feel it's time to offer this particular term of art its gold watch and wish it well in its retirement.
Human Checking vs. Machine Checking
Although sapience is problematic as a label, we still need to distinguish between what humans can do and what tools can do. Hence, in addition to the basic distinction between checking and testing, we also distinguish between human checking and machine checking. This may seem a bit confusing at first, because checking is, by definition, something that can be done by machines. You could be forgiven for thinking that human checking is just the same as machine checking. But it isn't. It can't be.
In human checking, humans are attempting to follow an explicit algorithmic process. In the case of tools, however, the tools aren't just following that process, they embody it. Humans cannot embody such an algorithm. Here's a thought experiment to prove it: tell any human to follow a set of instructions. Get that person to agree. Now watch what happens if you make it impossible for that person ever to complete the instructions. Human beings will not just sit there until they die of thirst or exposure; they will stop themselves and change or exit the process. And that's when you know for sure that this human– all along– was embodying more than just the process that he or she agreed to follow and tried to follow. There's no getting around this if we are talking about people with ordinary, or even minimal cognitive capability. Whatever procedure humans appear to be following, they are always doing something else, too. Humans are constantly interpreting and adjusting their actions in ways that tools cannot. This is inevitable.
Humans can perform motivated actions; tools can only exhibit programmed behaviour (see Harry Collins and Martin Kusch's brilliant book The Shape of Actions, for a full explanation of why this is so). The bottom line is: you can define a check easily enough, but a human will perform at least a little more during that check– and also less in some ways– than a tool programmed to execute the same algorithm.
Please understand, a robust role for tools in testing must be embraced. As we work toward a future of skilled, powerful, and efficient testing, this requires a careful attention to both the human side and the mechanical side of the testing equation. Tools can help us in many ways far beyond the automation of checks. But in this, they necessarily play a supporting role to skilled humans; and the unskilled use of tools may have terrible consequences.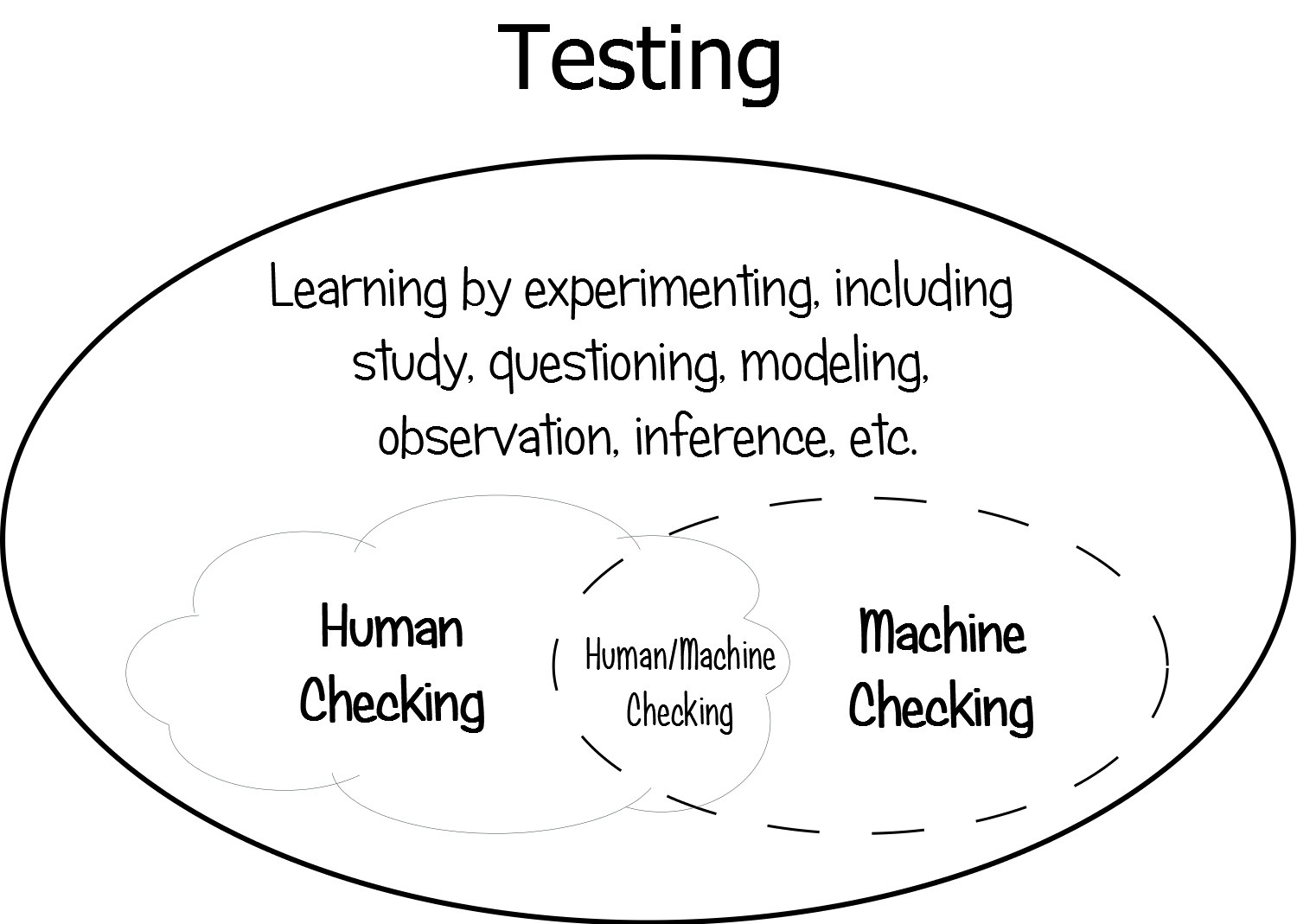 You might also wonder why we don't just call human checking "testing." Well, we do. Bear in mind that all this is happening within the sphere of testing. Human checking is part of testing. However, we think when humans are explicitly trying to restrict their thinking to the confines of a check– even though they will fail to do that completely– it's now a specific and restricted tactic of testing and not the whole activity of testing. It deserves a label of its own within testing.
With all of this in mind, and with the goal of clearing confusion, sharpening our perception, and promoting collaboration, recall our definition of checking:
Checking is the process of making evaluations by applying algorithmic decision rules to specific observations of a product.
From that, we have identified three kinds of checking:
Human checking is an attempted checking process wherein humans collect the observations and apply the rules without the mediation of tools.

Machine checking is a checking process wherein tools collect the observations and apply the rules without the mediation of humans.

Human/machine checking is an attempted checking process wherein both humans and tools interact to collect the observations and apply the rules.
In order to explain this thoroughly, we will need to talk about specific examples. Look for those in an upcoming post.
Meanwhile, we invite you to comment on this.
Update 2013-04-10: As a result of intense discussions at the SWET5 peer conference, I have updated the diagram of checking and testing. Notice that testing is now sitting outside the box, since it is describing the whole thing, a description of testing is inside of it. Human checking is characterized by a cloud, because its boundary with non-checking aspects of testing is not always clearly discernible. Machine checking is characterized by a precise dashed line, because although its boundary is clear, it is an optional activity. Technically, human checking is also optional, but it would be a strange test process indeed that didn't include at least some human checking. I thank the attendees of SWET5 for helping me with this: Rikard Edgren, Martin Jansson, Henrik Andersson, Michael Albrecht, Simon Morley, and Micke Ulander.
Update, 2019-12-16: We have added "experiencing" to our definition of testing. We do this to emphasize the role of direct, interactive, human experience with the product, the system of which it is a part, and the context that affects it. Testers can and will use tools (including automated checks) in support of testing, but experience of the product is essential to evaluation and learning.